Ireland by the Regions | 2022
The Wild Atlantic Way is unquestionably the most celebrated of the Irish tourism regions and, since its launch in 2014, has attracted millions of visitors, from home and abroad. Such was the Wild Atlantic Way's immediate and staggering success, it was not long before other similar initiatives were created in a bid to emphasise other parts of the country. And so, you can now also map your vacation according to the confines of Ireland's Ancient East, the Munster Vales and Ireland's Hidden Heartlands. Each of the four regions have their own distinct theme, narrative and areas of concentration. And between them, there is something for the explorer, foodie, history buff, party animal and beach-bum. Outside the major cities, the transport infrastructure is not the most accommodating of tourists, while access to your own vehicle allows for a freedom and autonomy no other mode of transport comes close to replicating. Whether you are coming to Ireland for the first time or a frequent visitor, the prospects of encountering the unexpected are equally limitless. If you are not bound to the timetable of say, a tour guide, such surprise encounters can be last as long as you like. Relatively small as Ireland is, there really is so much to see and do but, luckily, the national tourism bodies have essentially carved up the country into regions, each created to showcase the very best of the countless attributes – natural, cultural and historical – that are just waiting to be discovered.
Regions to visit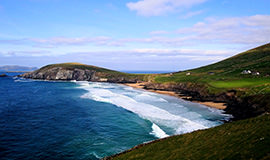 The Ring of Kerry is a visual delight for anyone who travels it – majestic mountains, beautiful panoramas, ancient sites, and little out-of-the-way towns.
Continue reading
Encompassing the entirety of Ireland's ribboning, resplendent west coast, the Wild Atlantic Way has, in just five short years, become one of the most renowned road trips in the world.
Continue reading
The city has always been a popular destination for tourists; however this is true even more so today. Galway City is a fantastic location on a number of fronts.
Continue reading