Where is Ireland West Airport Knock situated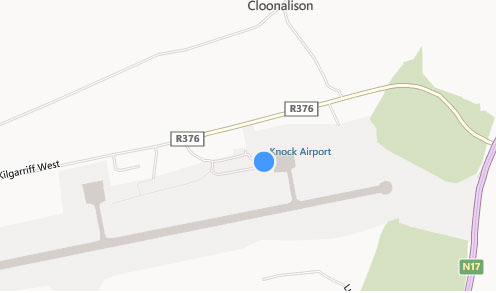 Ireland West Airport, Knock serves County Mayo and greater western Ireland. It is named for the world-famous Knock Shrine, but actually lies closest to the town of Charlestown. Passengers hoping to visit the rugged coastline or stop by Knock Shrine will be best served by a rental car from Knock Airport.
Beyond the shrine, there are several other towns, outposts and attractions worth visiting in the region. This is especially true for anyone with access to a private car. Getting around western Ireland is difficult for those who plan on booking a commercial true – especially for anyone who are planning more than a basic pilgrimage to the shrine.
The main road running to and from Knock Airport is the N17. The N17 runs north to south and links to the N5, which is about 6 kilometres north of the terminal. The N5 is an east-west artery.
After Charlestown, Claremorris is the closest major town. Claremorris is about 30 kilometres south of the airport, at the junction of the N17 and N60. For those who are switching over to transport by rail, this is where you'll find the nearest Irish Rail station. At 90 kilometres to the south, Galway is also within a short drive of Knock Airport.
Irish roads are in good repair, and there is really no alternative to getting out and exploring this region by Knock Airport hire car. The alternative is to only see those attractions that are featured on commercial tour itineraries, rely heavily on buses or shell out sums in taxi fare throughout your visit.