Campervan Hire Dublin & Ireland
Your Campervan Adventure Starts here!
The warmer weather and longer days make now the ideal season for hitting the open road in our home on four wheels.
Watch the sun go down over the Wild Atlantic Way, take in all the twists and turns of the Ring of Kerry or get lost in the magic of Ireland's Ancient East. Create long-lasting memories and make your staycation in Ireland one you'll never forget. Picking up a campervan in Dublin is perfect for a couple's getaway, as an adventure for the whole family or group of friends.

Travelling in spring, summer, autumn or winter – campervan rental is a fun adventure at any time of the year. Now's the time to join the movement and hire a campervan Ireland with CARHIRE.ie.
What make & model are your campervans?
Our campervans are brand new custom-built Nissan NV400's. They not only provide ample driving, living and sleeping space but are easy to drive and park too. A standard driving licence will suffice. The driver(s) must be eligible to hold a driving licence for 11 years.

Our campervans can seat a maximum of 4 adults when driving. However, for sleeping they are designed to accommodate 2 adults and 2 children. If you are travelling with 4 adults, some customers opt to bring their own tent and pitch it near the campervan for 2 of the adults for sleeping.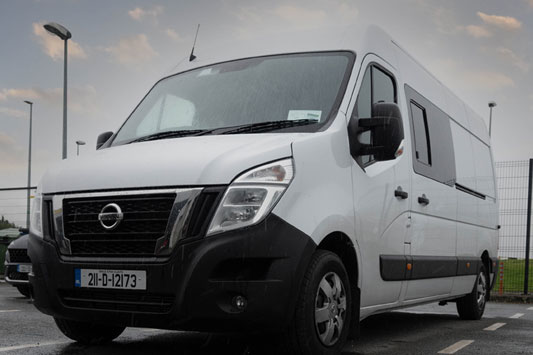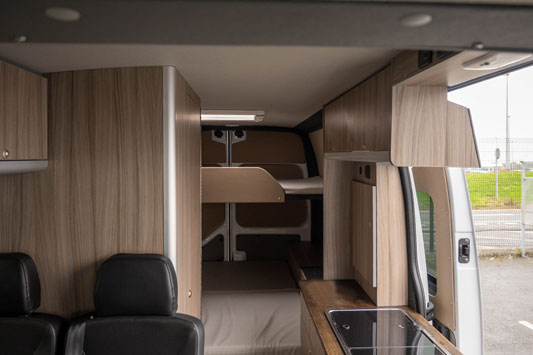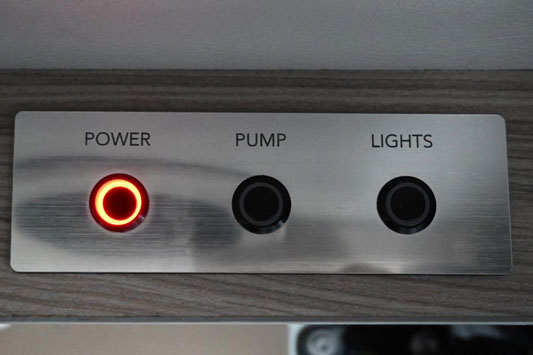 How many people can sleep in your campervans?
Our campervans in Dublin are designed to sleep 2 adults and up to 2 children, in bunk bed format:

Double bed for adults on lower section.
Double child bed above adult bed.
The beds are in situ at all times, so there's no need to re-configure the campervan each evening for sleeping. So conveniently, children can go to bed allowing adults to stay up a little later and enjoy the evening around the dining area. These camper vehicles are ideal for family campervan trips!

Our floor plans show the configuration of the campervan while driving and when parked.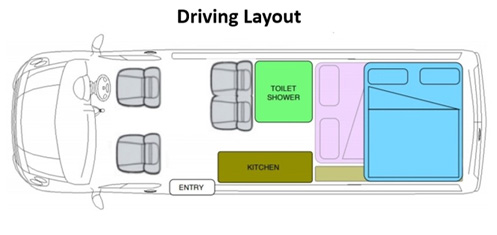 What comes with my campervan?
24-hour breakdown assistance
Unlimited mileage
Fridge
Kitchen with sink
Gas stove
Gas cylinder
Unlimited mileage
Water tanks
Interior dining table
Interior toilet, sink & shower
Mugs, bowls, plates, cutlery
Serving bowls, chopping board, kitchen utensils
Pots, pans, kettle, cafetiere
Tea towels & cleaning materials
Toilet chemicals & speciality toilet roll
Double step for easy access to your camper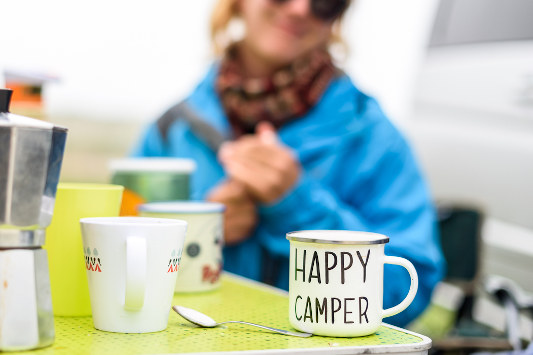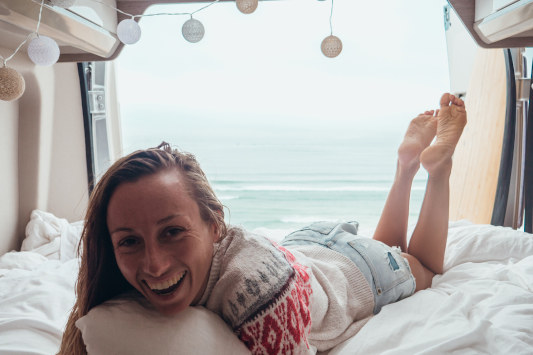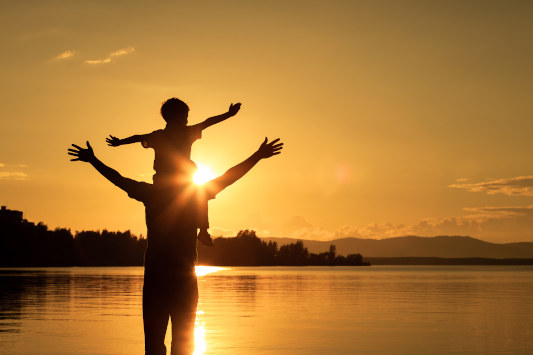 We also offer a range of optional extras for rent such as:
Bedding set (1 double duvet, 2 pillows & double bedsheets, sanitised & sealed in a one-time use only bag)
Towel set (1 bath towel, 1 hand towel and 1 facecloth, sanitised & sealed in a one-time use only bag)
Pair of outdoor tub chairs (fold up design)
Outdoor dining table (fold up design)
Our cleaning policy during Covid-19
We have put special measures in place to provide you with a safe and flexible travel experience. Your safety is our number one commitment. You can be assured of:
✔ Stringent cleaning and disinfection of vehicles, whereby all surfaces are cleaned with special disinfectants. After disinfection, the vehicle is not opened again.
✔ Social distancing practises and processes implemented at all stations.
So if you are thinking about campervan hire in Ireland, CARHIRE.ie is the obvious choice. Our campervan Dublin Airport pick-up and returns is near our Dublin Airport office and easy to access from the M50 & M1 so you'll be on the road in no time.

Please allow 1 hour for the collection of your vehicle so that our staff can show you how everything works before you depart. On vehicle return, please also allow 1 hour so that the vehicle can be checked by our team.