Shannon Airport
Arrivals Hall Shannon Airport Co Clare, V14 FX54
Shannon Airport
By bus
Shannon is Ireland's second busiest airport, and Bus Eireann has more than 130 services passing through the airport every day, from all over the country All Bus Eireann services on the Galway/Limerick/Cork corridor pass through Shannon. Click below for all the relevant Bus Eireann timetables.
Bus Eireann
By taxi
Shannon Airport Cabs is the airport's official taxi company, with taxis running 24/7 to and from the airport. Customers can book in advance, and the company offers transfers, wheelchair accessible cabs and even day tours of the region. Shannon Airport Cabs also welcomes corporate accounts for regular business travellers. Click below for more information or to book.
Shannon Airport Cabs
Travel by car
Shannon Airport is only 24km from Limerick city and 22km from Ennis in Co Clare, and is easy to reach from anywhere in Ireland. The official website even has a helpful journey planner for travelling from anywhere in the country. Click below for directions.
Get directions
Business with CARHIRE.ie
For over 30 years CARHIRE.ie has been a rental partner of choice for Ireland's SMEs — find out how we can give your company a business edge.
Learn more
GoCar by Europcar
With our 24/7 contact-free service you don't need to visit a rental office — just book and find a car parked near you, all through the app. It's the future of car rental!
Learn more
Our blog
We're always driving the conversation about the best road trip experiences in Ireland. Keep up with our expert travel tips and insider insights.
Read blog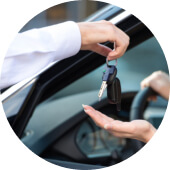 Book with confidence
We're a long-established Irish rental company, not a broker or third-party site, so you'll never be surprised by hidden costs.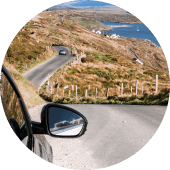 Flexible
Don't worry if there's a change of plan - you can amend your booking for free up to 4 hours before pickup.
Value promise
We're always overtaking our competitors when it comes to value and premium customer service — that's our promise to you!
have a question?
FAQs
If you can't find the information you need in this FAQ section, please get in touch through our Contact us page.
We accept MasterCard, Visa, American Express, Diners Club and Discover Cards. We only accept debit or credit cards from the person in whose name the booking is made. GoCar by Europcar bookings have to be prepaid online.
Debit cards will only be accepted if either (1) a credit card is also provided to cover the excess; or (2) the customer purchases our Super Collision Damage Waiver product, which reduces the excess to €250. Please refer to our Terms & Conditions.
Yes, you can check rates through our booking system before making a reservation. Your booking is only complete when you agree to the Terms & Conditions and click the 'Pay now' button.
Most of our basic rental fees include Collision Damage Waiver and Theft Waiver, which have an excess of between €1,500 and €2,500 depending on the vehicle category. For more information, please refer to the Excess Amounts and Coverages section in our Terms & Conditions.
Drivers must meet the requirement for licence eligibility. If the number of years is eight, this does not mean the driver must have held their licence for 8 years — they must have been eligible to hold their licence for eight years. This information is stated clearly in our Terms & Conditions.
When you arrive at the CARHIRE desk (operated by Europcar), we will ask you to provide a valid unendorsed driving licence issued by your country of residence, and a major credit card in the name of the main driver. If your licence is issued in the UK, you must provide the 'Share Driving Licence' information, which you can obtain by visiting gov.uk/view-driving-licence.
Non-EU/EEA driving licences cannot be accepted if the holder has been resident in Ireland for more than 12 months. Holders of UK, US, Canadian, Australian and all EU member states are not required to supply an International Driving Permit (IDP).
If an International Driving Permit is required, it must be accompanied by the driver's original domestic licence, photo ID such as a passport or national identity card, and a utility bill or bank statement (dated within the last three months) with the same address as your driving licence. If you are using a prepaid voucher (with a specified value or that says group and days apply'), you must also present a credit card for your deposit and charges that have not been prepaid.
Other common questions